Treefinder

Getting to know the place
Posts: 11
Joined: July 29th, 2014, 7:27 pm
Location: Croydon, VIC
---
cwolf

I'm new, be nice!
Posts: 6
Joined: May 30th, 2011, 10:51 pm
Good to see another 2door still kicking around out bush.
---
Treefinder

Getting to know the place
Posts: 11
Joined: July 29th, 2014, 7:27 pm
Location: Croydon, VIC
As far as I'm concerned that's what they're made for, this old girl still has plenty of life in her!
Looking forward to a disc brake rear end and KA24DE upgrade soon-ish
Pete.
---
Cape Runner

Here and there
Posts: 81
Joined: June 28th, 2007, 4:49 pm
Location: Gracemere, QLD
My r51, all the usual mods but running a/ts atm
You do not have the required permissions to view the files attached to this post.
---
50CRAP

I'm new, be nice!
Posts: 5
Joined: April 26th, 2015, 12:52 pm
Heres my swamp donkey.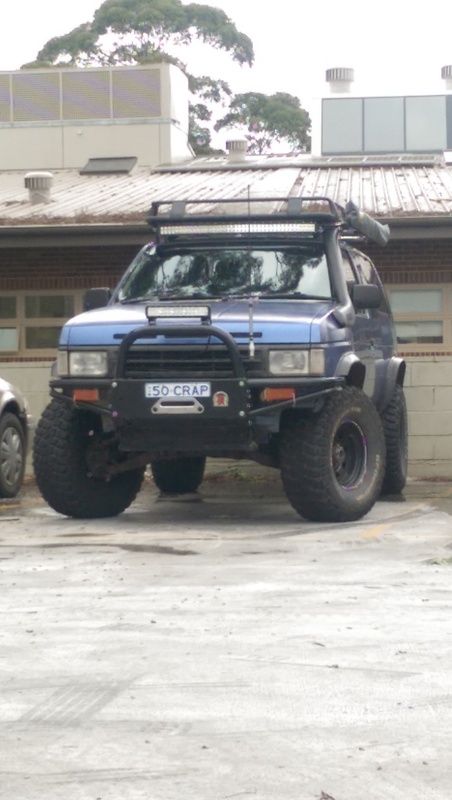 Has the usuals i guess.
2" body, 2" tough dog suspension, 2wd steer setup, idler brace, 33x12.5 BFG KM2 muddies, D22 Xrox bar, extractors, 32/36 weber, Carter 4070 fuel pump, 80ch uhf, 42" light bar roof, 15" light bar on bar, back up light, pajero full length roof rack, Lokka front locker, 2.25" exhaust, HD clutch, dual battery, electric thermos, snorkel, and a few other bits and pieces.
Getting a KA24ET conversion in the next month and rear disc setup. Got a Dana 44 out of a Jeep lined up for down the line.
---
passenger pete

I'm new, be nice!
Posts: 5
Joined: May 7th, 2011, 1:22 pm
Location: christchurch
nissan terrano wd21 td27 turbo intercooled y60 running gear and pto winch
---