Looking for any advice, tips, suggestions of supplier, of independent suspension etc for offroad 3000 kilo tandem tipping trailer.
I am planning to build a off-road dual use tandem trailer to be used for fire wooding (hence the hydraulic tipping) & on weekends etc to remove the folding sides and slide a camper unit onto it.
One issue I am struggling with is height/ground clearance.
It will be towed by a bitsamissing Triton 2.5 T/diesel dual cab 4 x 4 ute,
so ground clearance only needs to be whatever the ute will clear.
If I go independent suspension with air bag / shock - it can be aired up for more under body clearance when carrying the camper and aired down when fire wooding for easier loading of wood and aired up again for towing it home to tip it off!.
So I am wondering whats the best off road independent suspension to buy to use as the basis for this trailer build (and who do I get them from?
Without axles / suspension being decided and committed too - I can't really start drawing the chassis plans etc to comply with ADR's etc.
All I've ever done before is build trailers with leaf springs and solid 45mm square axles from Martins trailer parts, so this is all a bit new to me - I figured maybe someone with experience might be able to point me in the right direction please?.
Saw this online underneath a caravan...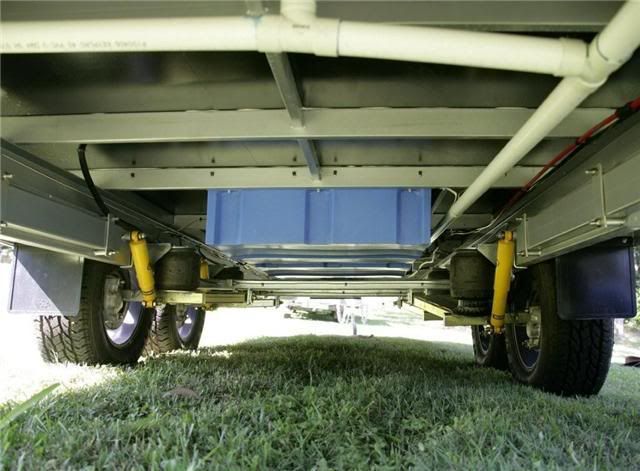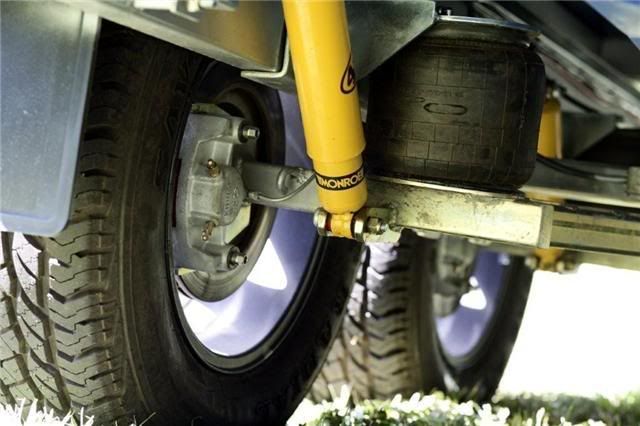 No idea who makes / sells them or if they are any good for my proposed project?
Also saw these on ebay in a link on a thread in this section of the forum.

http://www.ebay.com.au/itm/OFF-ROAD-CAM ... 27b9ea7646
Thanks in advance if anyone has any ideas / tips / suggestions / links / suppliers - or indeed reasons NOT to do it that way and just stick with standard square axles on leaf springs?.