Whats a PC?
I am assuming its sump oil your talking about?
The newest diesel oils have huge amount of detergent in the add pack. The idea is that the detergent keeps the soot in suspension until you drain it out, at oil change time. If it settled out it would form black gunk coating every component inside your engine like back in the bad old days.
4 options to consider.
1. Shorter oil change periods (5000km's?)
2. Bypass Oil Filtering with sub micron (cotton wound) filter/s.
3. Centrifugal oil filtering.
4. Combination of both of the above.
Soot in suspension is a wear agent so less is better.
Back in the day I bought a 2.5 TD 93 bitsamissing Triton new & my old man 6 months later bought the identical vehicle also except his was a 94 manufacture vehicle. Identical in every way!
My service manual said 5000 km services & his said 10,000km services! Same oil & same engine - why the difference?
Customers complained about the frequency and cost of servicing so 'oil engineers' at the behest of the manufacturers engineers, changed the rating of the oil to allow it to run 10,000 kms between services + change the manual and everyone's happy!
So 5,000km or 10,000 km servicing is "subjective" at best, cleaner = better for engine longevity.
IF you have enhanced (sub micron &/or centrifugal) oil filtering, well some places say you can go 20,000 kms between services BUT they suggest used oil analysis half way (10,000km's) just to be sure.
Me personally I go 5000km servicing with sub micron oil bypass filtering and when I change my oil its still clear, if you wipe the dipstick on clean white tissue paper - there's the slightest 'grey' tinge but pretty much its still clean / clear.
Normal oil filter cartridge will take out particulates above about 28 thou....
By Pass filtering will scrub that oil clean down to less than 1 micron soot in suspension.
Centrifugal oil filtering will remove the sub 1 micron soot.
All 3 will keep you oil clean!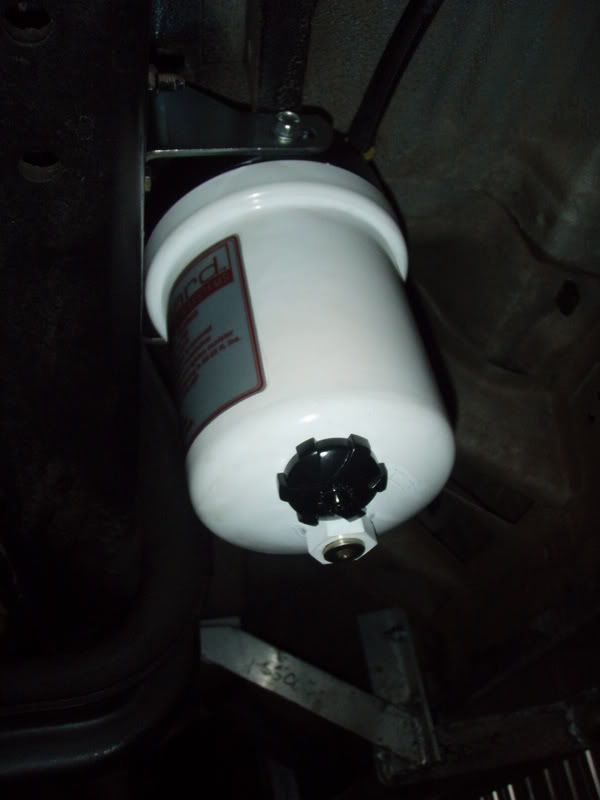 I use one of these cotton wound replacement sub micron filters.
Centrifugal "spinner" oil filters - will take out the finest of sub micron soot that even a sub micron cotton wound filter misses.
But its a messy process.. like scraping black butter out of a tub with a knife...
The old discovery diesels used to have a screw off disposable/throwaway spinner cartridge that you replaced every 20,000 km's which is quicker & cleaner.
One of the difficulties with using a centrifugal oil spinner filter is where you locate it in the engine bay.
The inner filter cartridge spins at up to 20,000 or 30,000 rpms - which is how the centrifugal force separates out the finest of soot particulates.
It's oil pressure from the oil pump that spins up the inner cartridge to such high rpms that the soot gets separated out and the clean oil flows up over the top rim of the inner spinning cartridge then flows back DOWN to the engine sump via a pipe and gravity.
So in order to install one.. you need to find a way to get that oil back to the sump - and typically it can be done with a nipple threaded into the side of the sump above the full level, but generally newish vehicle owners are reluctant to thread a nipple into the side of thin sump metal lest it comes loose and oil leaks - engines seize from loss of oil.
Another method is to "T joint" into the side of the oil dipstick and run the oil under gravity back to the sump that way - but it requires brazing skills to do so isn't really a bolt on kit type solution.
The "easiest" way is thru the top of the rocker cover oil filler cap - with a banjo bolt type fitting.
The "difficulty" being that most oil fill caps are located on top of the rocker cover which is NEAR the top of the engine under the bonnet so where do you mount a oil spinner filter high enough in the engine bay that gravity will take the oil back to the filler cap to get to the sump?
And this trips up a lot of people from employing centrifugal oil spinner filters.
For sub micron OIl Bypas filters - you need a spot where you can hive off say 10% of the pressurized oil from the oil pump - scrub it clean and return it to the sump! So similar issues - where do you tap into the pressurized oil pressure system and where do you return the oil to the sump?
Some vehicles are more suited to do this from a engineered plumbing point of view and some aren't.
The BEST (easiest) way would be... whats called an engineered exported oil manifold!
You can see this is a engineered oil block adapter that goes between a oil filter and the oil filter mount, and allows oil to be hived off for cooling and / or filtering purposes & returned to the normal position within the engine to continue on to the sump or around the engine.
Then you can run that oil feed line/s to say an oil cooler first and the return line to a mount under the bonnet in the engine bay where spinner filter and or sub micron cotton wound filters mount and then back to the original filter location & its then possible to have aftermarket oil cooling and filtering - and keep triton oil squeaky clean if that's what owners really want!
Frequent oil change intervals? Upside, cleaner oil with less soot = less wear. Downside = It costs more and is more inconvenient to do.
The thing is you have to get someone to engineer the oil filter adapter plate and hoses and mounting plates for sub micron and spinner filters... find a location to mount the plate thats easily accessible for oil change time & high enough to run the oil from spinner filter via gravity back thru the dip stick or oil filler cap etc etc.
It's technical sort of 'engineering' that is different for each model of vehicle & if you get it wrong - and someone soil leaks and their engine seizes & you created & sold the kit - well potentially you face a lot of warranty and law suit claims - so no one makes the kits basically coz the risks are too high.
Its not hard to do the actual engineering these days with CAD CAM and 3D printing & Lost sand casting of alloys etc - especially if you sub the manufacturing work out to China... but who wants to take the risk with their (or someone elses) engine these days.
The REAL question is, why don't the manufacturers bring the darn engines out with this stuff from new?
The trouble with tritons and other small high capacity intercooled turbo diesel engines is - we know what they need to run clean - the technology exists - its just that its not commercial viable with risk factors to manufacture and sell 'after market' exported oil manifold kits with sub micron and centrifugal oil filtering components coz the first DIY guy that gets the plumbing wrong or screws it up at installation, and his engine is "toasted" will sue your pants off.
There doesn't seem to be any 'readily available' by pass oil filtering kits for Tritons on line that I can find.
I managed to find one for my F 250 but thats coz its a USA made vehicle & they have 300 million population so such after market bolt on 'kits' are viable in that market place & the Navistar TD T444E engine (7.3 liter) already has oil return line bolt positions cast into the block and oil pump body etc
Not so the Tritons.
Frustrating really coz the little 4 cyl triton engines would benefit greatly from cleaner oil IMHO.
So unless your an engineer type who can make your own components and prepared to accept the risk if you get it wrong, or can afford to pay some engineering shop to make you the adaptors and manifolds and buy your own filters etc & install your own system - what can you do?
My Lad has a new (2014) Triton also, so its something we have been considering (i.e how to make a system, that could be sold as an aftermarket DIY bolt on kit), but the commercial risks are just too high...
Damned if you do and damned if you don't - which is probably why the big boys like ARB etc don't offer any off the shelf solution.