Hello all ,

Just wondering if anyone has had child restraint points fitted to the rear of a dual cab d22 navara 2002 onwards. I am looking at buying a 2002 dx shortly and notice they aren't a standard feature like in rodeos etc.
Any photos , or cost info would be greatly appreciated....
---
I got them put in to my nav, cost was $415 for 2 including a compliance plate. They had the car for a couple of hours.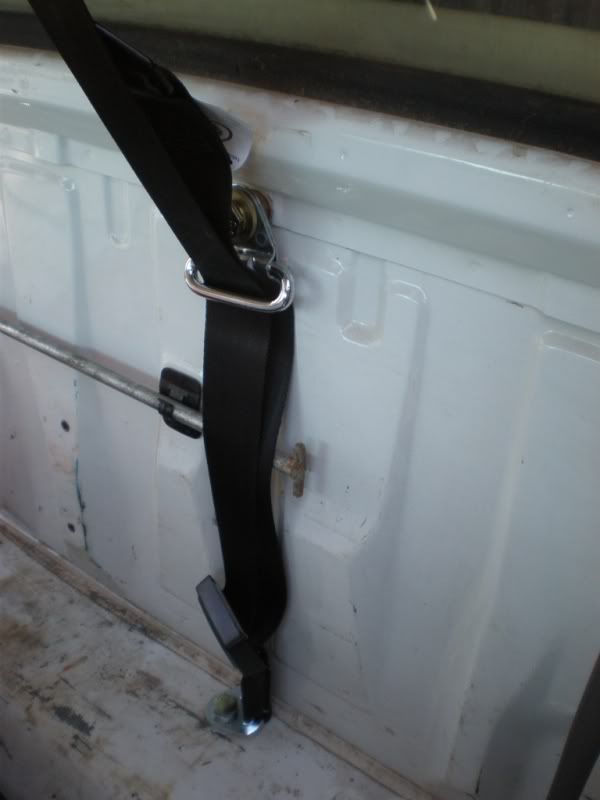 If you are going to put a capsule in it then the best one we found to fit was a safe-n-sound compaq (plus it got rated the safest by choice magazine). It still leaves a comfy amount of leg room (i'm 6' tall) if you are going to put a seat in it then i guess size doesnt really matter as much
---
I had mine done by a mobile mecheic about $160 I thought looks like squeeker's included modplate and was done in about 1hr in the local bunnings carpark
I owe I owe so its off to work I go........
---
Yes, mine is the same as squeeker's also, cost about $600 for three at Coughran's Auto Centre in Toowoomba!
---
can any mechanic do it?? i'm guessing you'd need trade papers to sign off on it. and does it have to go through the licensing dept??
I'm sure the missus wants one of those seats soon.
;)
04 D22- 3" lift, 33" STs, 16" Enkei Race wheels, Locked up front and a whole lotta grinding!!!!!:D:D:D
plus the dual batterys, uhf, 50l fridge, roof racks, bashplates and onboard compressor.
---
In QLD you need someone who is licenced to do it which enables them to signoff on the modplate, not all mechanics are licenced, eg when my mate bought OL Toowoomba he had to apply for a "Mod Plate" licence and I think his covered the accessories he fitted instore which required a mod plate like change of seats.
I owe I owe so its off to work I go........
---
Bandit40 wrote:Yes, mine is the same as squeeker's also, cost about $600 for three at Coughran's Auto Centre in Toowoomba!
would hope they are the same, was done at the same place....
---
Thanks guys , at least i have an idea on price now , bit more than i thought but what's new !!!!
Cheers
---
looks good, need one put in my nav, got a company in adelaide sorted to do it, looks to be the same kind of thing the sales man was describing.
---
Hey Shanos, I had a point fitted to the rear of my D22 when I had one, you'll need to go to a Vic Roads approved installer, cost was $250.
---
---
Hi Shanos,
Although this reply is a little late and it appears you've had all your questions answered I just though I would say something anyway. My daughter had a little girl last week and my wife offered to pick her up from the hospital. A capsule had been organised and was about to be placed into the vehicle when she discovered there were no anchor points. Reading through the owners manual she discovered that child restraints weren't fitted to Australian vehicles. ( I thought that this was a compulsory fitment.) Anyhow the local dealer was contacted and was told that this was correct and to contact the RTA for companies certified to install them. We got one and the anchors will be fitted tomorrow at $270 each. While I'm on the subject of D22 Navara I might as well mention a few other gripes I've had since the purchase of the vehicle in February this year.
1. We wanted to fit an alarm system with remote locking, No courtesy door switches on the rear doors $70.00 each
2. Upgraded stereo system and wanted speakers fitted in the enclosures on the rear doors. Sorry mate can't do there's an intrusion bar behind it.
Now we have what appears to be 2 sets of speakers in each rear door.
Sorry it's running late and now I've forgotten many of the other problems I've come across since owning it.
---
---
Who is online
Users browsing this forum: anybot