This build has been published elsewhere so I'll edit and post the whole thing here.
My Rig started off as a bog stock LN 65 Hilux
I originally put a Group 3 spec 253 in it about 10 years ago for a mate, After doing what I think it was the third set of head gaskets He bought a 308 off a young guy who'd wrapped his ***** hot Statesman around a tree.
The guy had wanted to keep his Timing gears so it arrived with none, at which point my mate snapped the locating dowel off the cam, being the rev-heads we are we went for the biggest cam that would fit in it, I'm unsure of the specs but it proved to be a good choice, it pulls from about 800 rpm till it valve bounces at about 5500rpm, it also meant a new bell housing as the 308 was a turbo pattern.
This created another problem, in the space of 3 months we munched 4 Gearboxes, and that was on the tar!! never had it off road.
The solution was to use the majority of a G'box from an imported Turbo V6 (got no idea what it was ) some surf and supra parts thrown in and so far it's held up to anything thrown at it, including flat 1st, 2nd changes with he front wheels in the air!!
Then it changed hands a few times and then I bought it, by then it was run into the ground, brakes, suspension, body & everything except the engine was shagged.
I dragged it into the shed for a general tidy up before Rego, as you can see it got somewhat out of control. the new shocks I bought were way to long so I decided to fabricate new mounting points, then I thought why not shorten the chassis as well......it goes on.
Dummy fit of Shocks
Starting on the new cross member, in case your wondering, those holes are from what used a cross member that held the fuel tank. as I intended on a different idea I just cut it out....more on the tanks later
All welded in, I hope the Geometry works
Note the new rear cross member where the chassis has been shortened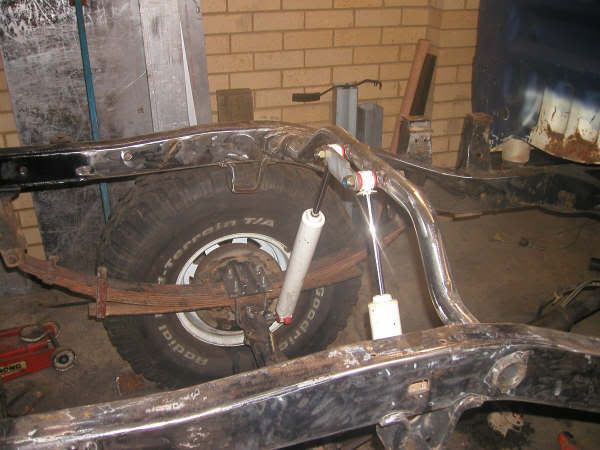 I thought while I'm at it I'll invert the shackles and make new shock mounts, which I machined out of 1" plate and welded to the axle tubes