Hi all. I like to show U my green frog
it's a 1989 nissan patrol y60 wagon ( or a GQ as i see it's called here) im the third owner of the car, first was a guy in belgium and the car then drove to PL and the guy that i bought it from. In PL car was towing a trailer with a horse, did some driving as a pilot car ( they convoyed combine harversters) and was also the third car in the family. Now its mine and i hope to have it for a long time. Frog is a cargo truck without back windows (and there were no back seats, but the previous owner put in seats from an audi or vw) "frog" has done almost 412,000 kms but the engine was replaced after a little explosion in the RD28T... the new engine has maybe half of the body's mileage... Timing belt, water pump, pulley, clutch, & iron man shocks were all installed new 20K km ago (as the previous owner said) i gave my frog new oil in the engine, gearbox, and the transfer case, new transfer case front and back seals, alternator and power steering belts, and i repaired a few electrical problems. Frog has got two set of wheels, 31" a/t's and 32 m/t's - the plan is to sell both sets and buy a new set of 33" a/t's
Now maybe some pics:
The First day, when i bought her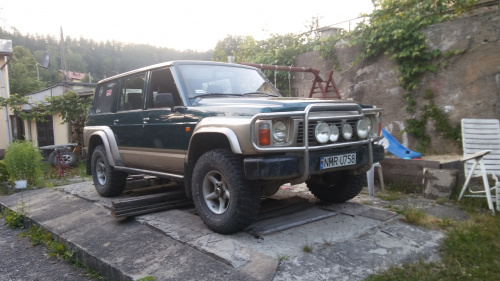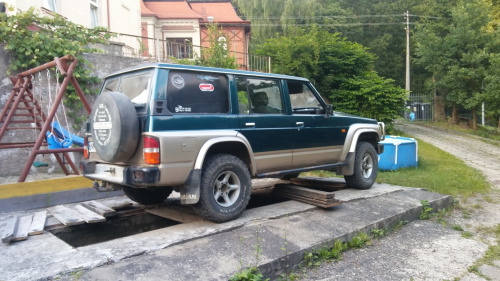 I was looking for something to do under the car
funny thing is that when i cleaned everything under thecar, there was 97kg of dry mud.
Inside there are front patrol seats and a back seat from an audi or vw. Everything is done in woodland camo
Now the best part.... Suspension...
The Previous owner said that the suspension was too soft so he welded in some kind of support or something on axles and put in shorter springs.....
Now i'm collecting the parts to restore everything to the light side of the force .
I have front and rear axle tubes, iron man 2" springs, a few polybushes, and much more..
Now. The frame was cleaned, i cut some rust out, and welded in a new part. Whole frame was painted with epoxy primer and black rubber paint so i know that the frame is now in good condition ( i must clean her inside and put some paint in there too) i've changed the fuel hose from the tank to the fuel filter cause it had a little leak. Now i'm on vacation, so the frog is on the sea side with us
But when we get back, i have a few days to fight with the axles and coils. Next step will be an expedition roof trunk. Im happy that i'm doing everything by myself
sorry for my poor english.