G'day guys!
Long time reader, first time poster. Thought I'd share a few pics of my 4runner. I got alot of inspiration and ideas from this forum reading posts like this so hopefully I can pay it all forward
Won this thing on eBay for 2 grand years ago. 1992 4Runner SR5. Full electrics, factory flares etc etc. Originally 3VZ which I didn't really care about, more wanted a straight & tidy body and a clean interior. Car had only done 160,000k's and was very tidy. Rear diff was pretty stuffed, so put a reco LSD centre in it. Rest of the driveline was perfect. Drove it for about 6 months and was always on eggshells as I knew the 3VZ was prone to doing headgaskets. Motor eventually did a headgasket after a few bush outings so decided to find something better than the asthmatic V6. Looked at a few different engine options but really couldn't go past a 1UZ. After reading all the success from Twistys 4unner & Nemesis 4runner I was sold. Strong motor, sounds good, and can buy replacement engines for cheap!
Picked up a whole donor Toyota Celsior for $1k with 90,000k's on it and got to work. Did the lot myself so saved heaps of cash. Countless hours were spent researching on different ways people had done this conversion, what parts were needed and all the issues people has had during their swaps. Ended up being a pretty straight forward conversion and has been reliably running without issues for just over 2 years now. Hasn't missed a beat. Running the standard R150f 5 speed with Dellow bellhousing and Exedy heavy duty V6 clutch assembly. No slip and keeps the pedal nice and light. Custom made engine mount brackets utilizing the standard V6 4runner engine mounts. Easy to pickup new mounts if needed from Repco etc, although I am still yet to break one. Radiator is a Diesel Hilux 3 Core with a 16" Davies Craig pusher fan. Never had any cooling issues with this setup. Restricted for space, I had to find some crown 'log' exhaust manifolds, which make me cry everytime I look at them. From the manifolds back its twin 2 1/4" straight through exhausts, all stainless, mandrel bends & tig welded. Rear section is flanged past the back wheels so I can quickly bolt in a separate twin muffler section I had made extra if I want to keep her quiet. Otherwise it's two straight pipes. Great sounding system. Not droney & still sounds like a V8.
Car already had 2" of suspension lift when I bought it, just put the 2" body lift in so the motor fitted nicely. I scrapped the Monroe shocks that were in it and fitted Tough dog adjustable rear shocks, Tough Dog front shocks & a Tough Dog adjustable panhard rod. It's sitting on 33x12.5x15 Federal Couragia M/T's. Rims are Mickey Thompson Classic II. Front bars are wound up a little to sit it flat. Only get a little bit of scrubbing from the fronts at full lock and heavy articulation, but its only from the inner guard so no biggie. TJM front bullbar modded for body lift. Have been very happy with the performance of the Federal Muddies. For a cheaper tyre they have lasted quite a while (2 years now with about 70% tread left), highly recommended for people wanting to save some cash but still want a good mud tyre. Has a full recaro interior out of SSRG Surf which I scored for a bargain of $300. Happy about that.
Delivery day! This is how the car started. Won for 2 grand off eBay, with rego, V6 SR5 manual, 160,000ks, with suspension lift. Bargain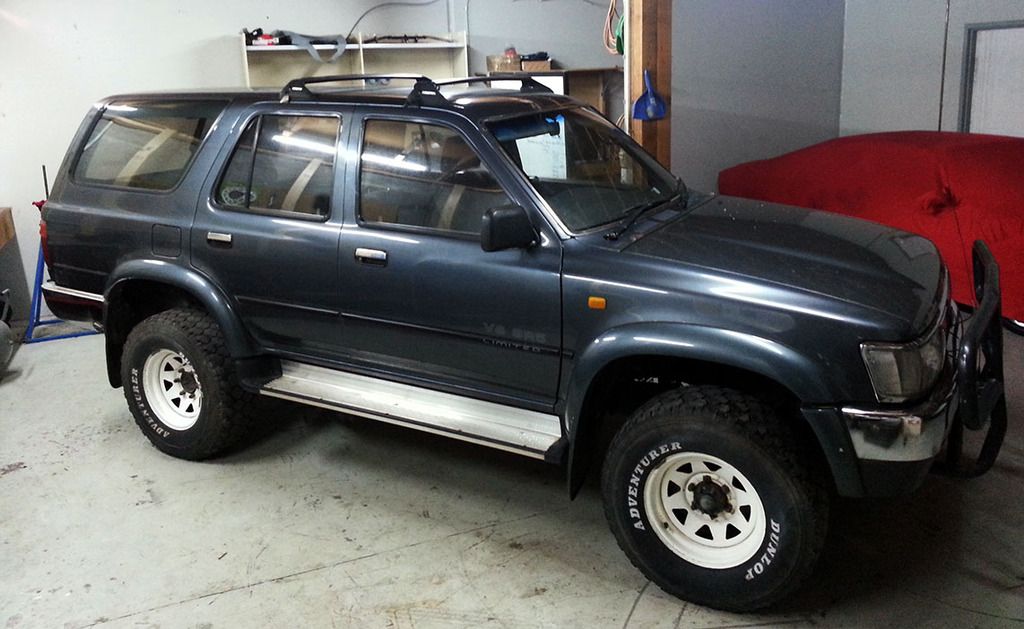 How it sits now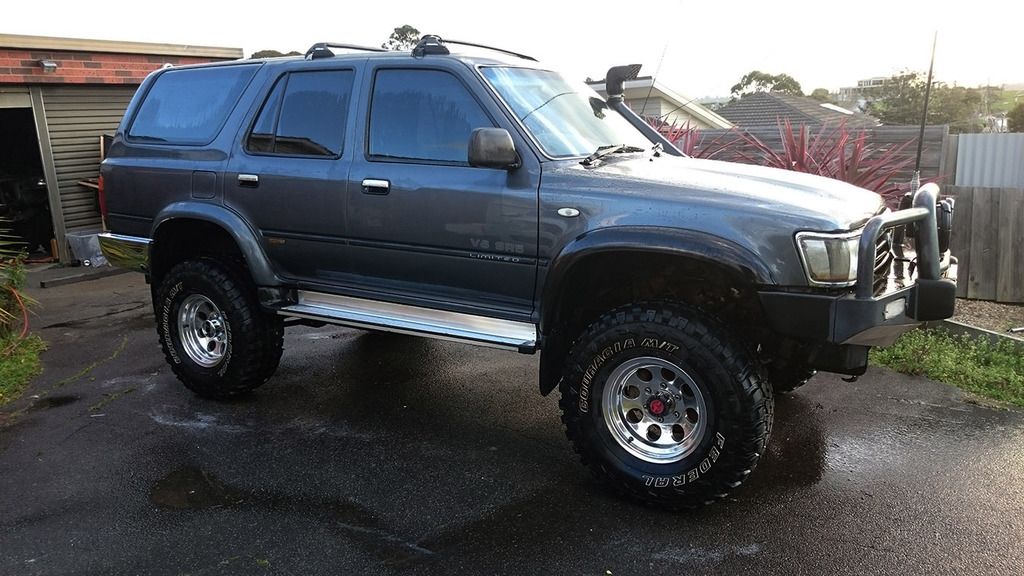 After some fun in the bush
Before tinted windows & Recaro interior went in
Before the Mickey Thompson Classic II's went on, just had black sunraysias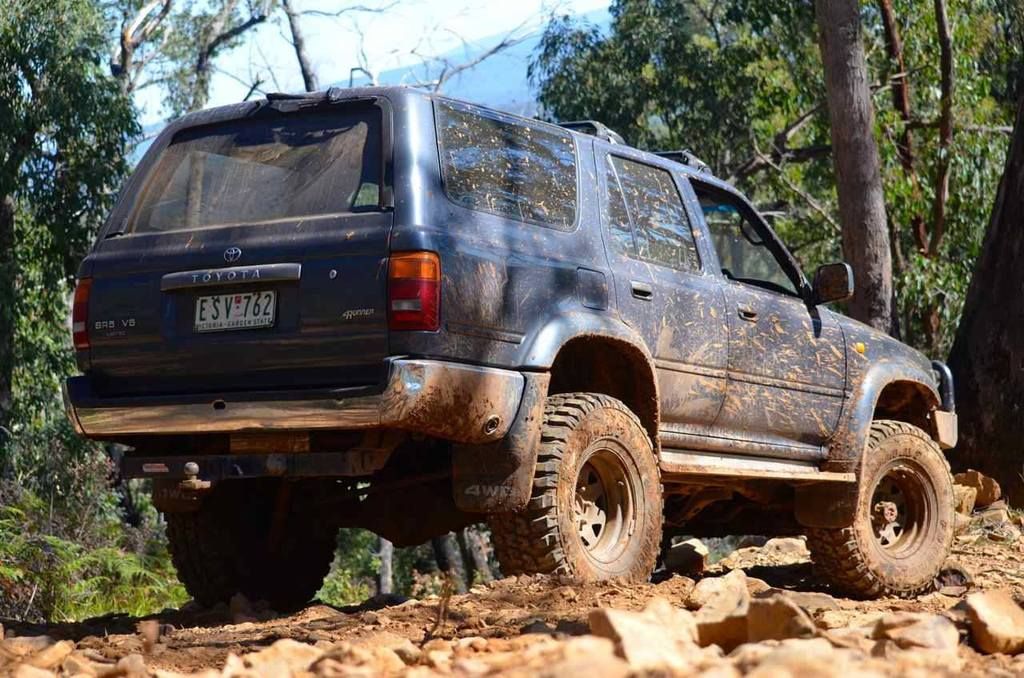 Engine conversion done & running. Tight fit. 1UZ's are a wide engine.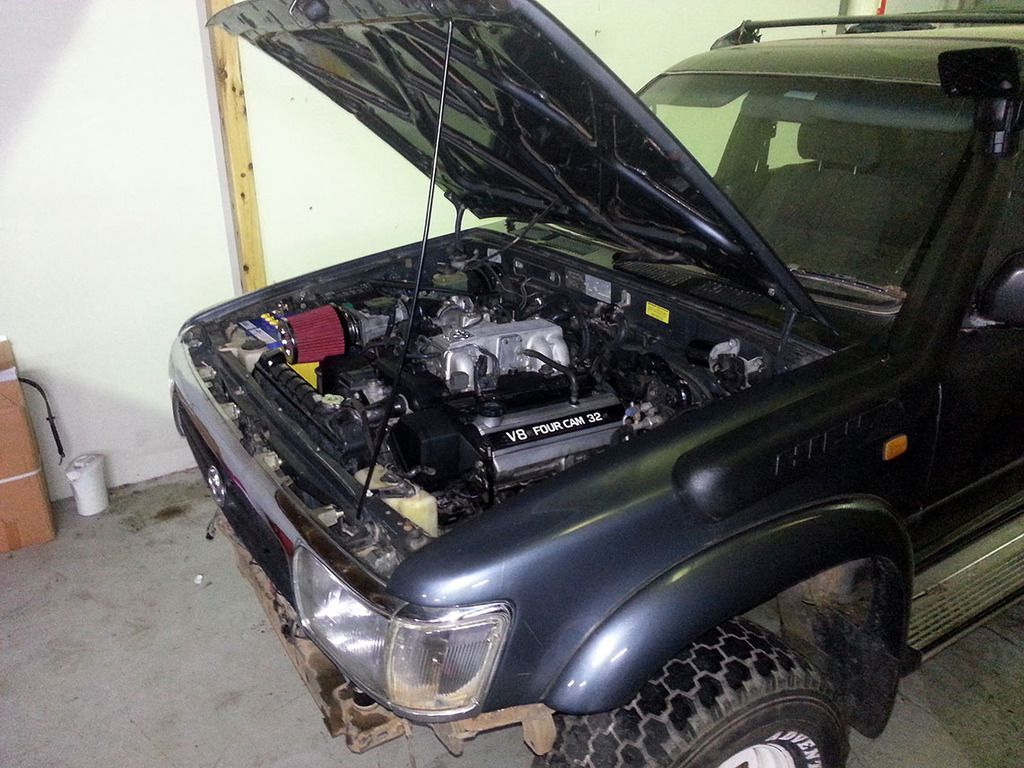 Really enjoy this car and the 1UZ conversion. Have given it a fair hiding in the bush and it's still going strong. Comfy on long trips too! Albeit a bit thirsty on the fuel, but hey, its a V8!
Cheers guys, look forward to posting more as she progresses. Happy to answer any questions about the conversion and give my 2c.
Geeman