I have bought a Jackaroo to replace the old Suzuki.
The third member of our family arrived in July prompting the purchase of a bigger 4WD. It has been my intention to build up a tourer for a while after having had the Suzuki as a pure play vehicle.
To finance the change I sold my motorbike. When the Suzuki sells it will be transformed in to a winch bar and winch, or maybe suspension and tyres. But hopefully not mechanical repairs.
The Jackaroo is a 2000 model with the 3.0l diesel. It has just over 200,000km's on the clock. I was going to buy new tyres but when I inspected it, there was Geolander A/Ts with about 50% tread. I think these will do for a little bit and I'll put the money elsewhere. I was attracted to this vehicle because 11 months ago the engine was rebuilt from the sump up to the tune of $15,000. New pistons, piston rings, bearings, timing belt, oil and oil filter, gaskets for head, sump, rocker cover, front seal, rear main seal. Full exhaust and inlet manifold gasket, water pump gasket.
The cylinder head was serviced, crank grinding, boring and honing the block. Injectors were serviced and calibrated.
The previous owner said the clutch was slipping on hills, so I got a pretty good price taking this in to account. I have $2,000 in the bank for a replacement solid flywheel and clutch kit. But the clutch wasn't slipping for me. So today while driving up a really steep hill I applied the brakes and accelerator with the car in 2nd and at about 2k RPM, this did make the clutch slip a little. Would a good clutch slip in this situation? I'm just not sure how much life the clutch has in it, or if I need to replace it at all.
So, with all this work having been completed within the last year, with good maintenance I'm hoping to have lots of trouble free wheeling.
It's fitted with two hella (look like 120s) on the bull bar. I have another set of hella 120s on the Suzuki to go in. It had a Uniden UH500SX fitted. I have a Uniden UH015SX coming out of the Suzuki. I'll put that in to a roof console when I get time to build it. I'm looking at building one like Mungrel's.
Anyway here's a photo of the new truck at work today.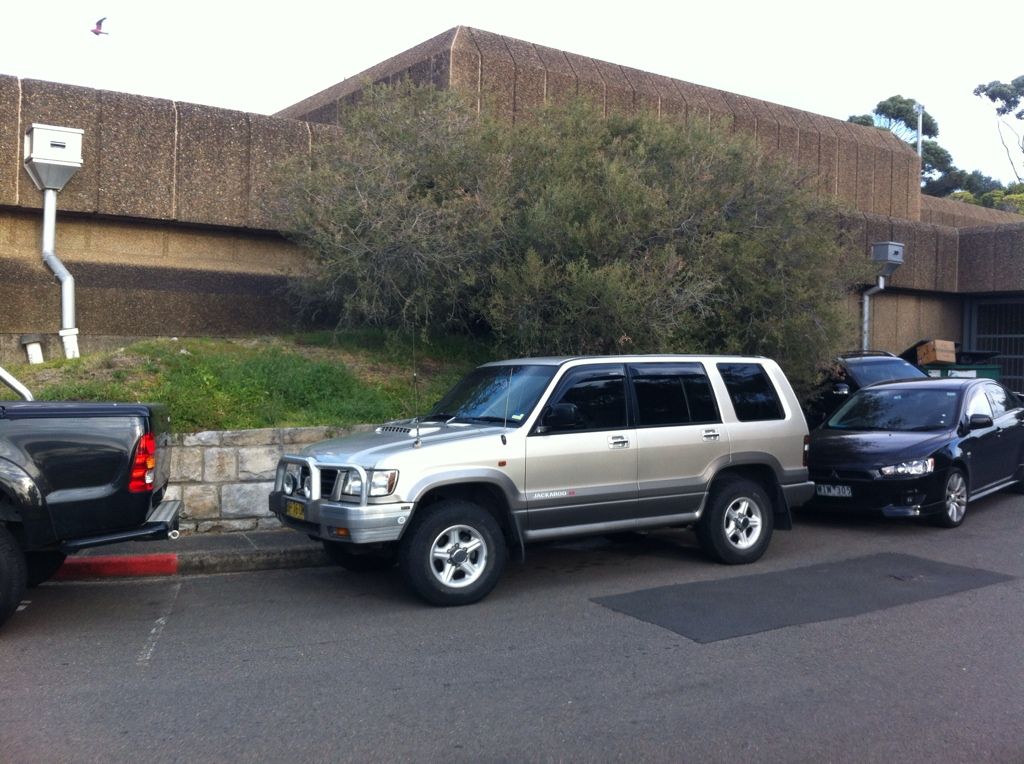 I'll keep this thread updated with the progress of the build.
Cheers,
Salty.