Yeah things have slowed a little in the search for the ultimate axe.
The Tuatahi is on order with a 4 month wait.
The chopper 1 resto project is underway with new springs and retainers, pins etc and a new hickory handle on the way from USA.
I am polishing the cast axe head hopefully to a mirror finish on it. Working with various grit flap wheels on the angle grinder to get rid of all the casting pits etc back to bare metal.
I went out today and bought a bench grinder to pull the grinding wheels off and put those sisal and cotton polish/buffing wheels on, and buy some jewelers rouge or whatever its called to buff the axe head up after I get it wire wheeled and sanded down to 1200 grit wet n dry first.
At the same time I am working on making one of these "jigs" for my Makita belt sander to turn it into a linnisher for grinding the edges on the axe heads to 22 degrees.
https://www.youtube.com/watch?v=GvTvEBQ1Lss
I am still after the Grasfors Bruks Splitting maul but that's another $240 plus $30 postage so might have to wait a couple weeks or so, for the bank balance to perk up some first after the hit its taken of late with the Tuatahi purchase.
All up I am approaching $1K so far into this "ultimate" axe hunt!
Probably should take some photos along the way and do some kind of a write up thread I guess.
But the 4 months wait for Tuatahi to arrive will slow things down anyway... likely winter will about all but be over before it gets here.
Not to panic - the eldest lad who these axes/mauls etc are for, is still recuperating from plastic surgery on his arm after his truck roll over accident 3 weeks back, so he won't be swinging axes or wielding the 660 Magnum Stihl anytime soon - which gives me time to potter away at this project (among others) at a leisurely pace, hopefully all coming together when he is ready to get back in the saddle.
At least that's the plan...
Been doing some "interesting" research tho in the meantime on the history of axes in Oz dating back some 40,000 years just out of interest for what its worth.
I've had these couple hand axes and spear heads from the Kimberly's for probably the last 35 years or so - but never knew much about them...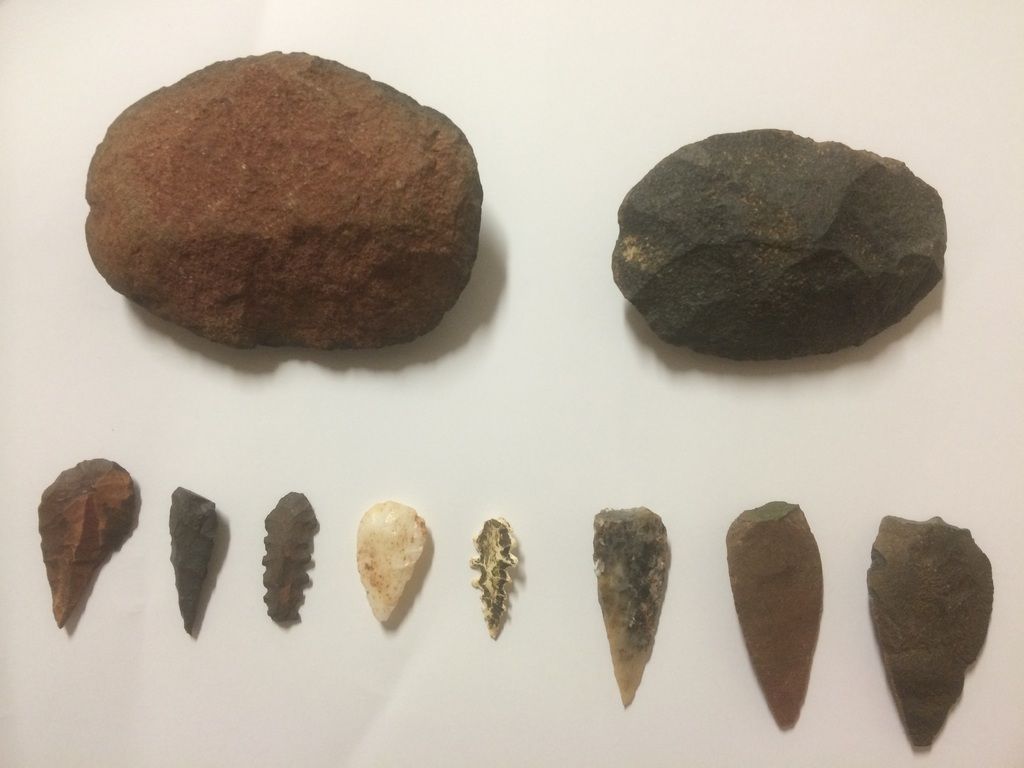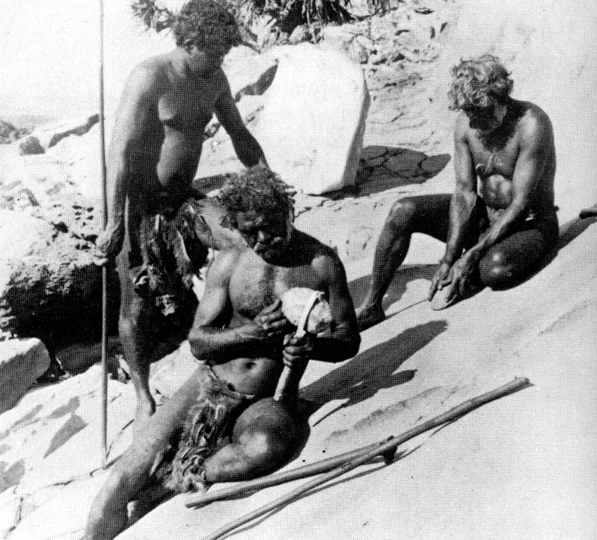 Aboriginal axes would have been either the hand axe type (head held in the hand) or hafted using a fork or bent stick and tied on...
&
The aboriginals certainly did make and use axes. As I understand it there are two principal types, ground axes and flaked axes.

The axes could be used as a hand axe or hafted to a shaft.

The axes could be used for cutting wood (trees) and butchering animals.

Axes were made from hard rocks which were quarried at specific sites. Many of these sites had specific legends and stories attached to them, which would increase the prestige of obtaining an axe from that site (like Holden vs Ford – you've got to have a stone axe from Mount William !).

Quality axes (or axe blanks) were traded over large areas, hundreds of kms and even 1000 km ! This shows trading between tribes was wide spread.

All rocks have a unique chemical composition, so when a stone axe is found, it can be analyzed and its origins determined back to a specific quarry site.
Mount William (Victoria) hosts a large Aboriginal greenstone quarry and axes from this side occure as far away as South Australia's Flinders ranges.

(Greenstone is geologically related to basalt type materials)

There have been quite a few papers about Mt William, here is a great summary:
Mount William stone axe quarry - Wikipedia, the free encyclopedia

I know some of the NSW contingent have posted grinding groove pictures, it may be interesting to note that quarrying of blanks and polishing often did not happen at the same places.
I was going to point out that stone axes can become chipped, but the edges can be re-worked and the tool can continue to be used, sometimes it is not necessary to remove the axe from the handle to do this.
In the picture it looks like the haft has been achieved by bending a green stick in half, thus forming a "loop" at the top to hold the axe head.
There is probably a strong lashing (perhaps sinew) underneath his hand to hold it tight. The inside of the stick may have been thinned out at the top to help the stick bend without breaking.
It is possible that an adhesive resin, or wax was used too, but I've seen examples where none has been used at all and its just the tension from the stick and lashing to hold the head in place.
An adz configuration seems to have been common place too.
&
The oldest ground-edge axe yet found (in the world) is from 35,000 years ago, found in a rock shelter in Jawoyn country in Arnhem land.
35,000-year-old axe head places Aboriginal ancestors at the cutting edge of technology
Im not sure if older non-ground-edge axes have been found in Australia/Sahul.
Sahul is the name given to the extended Australian/New Guinea/Tas continent etc that form with low level iceage oceans.
Ive read somewhere that for 80% of the time that Australia has been inhabited it was joined to New Guinea and Tasmania.
Aboriginal axe sharpening grooves,yengo national park.
&
This is a copy about Hatchets and knives taken from a book published 1914. I will add more from other books from different states and authors as i can.

Native Tribes of the Northern Territory of Australia
by Baldwin Spencer
Macmillan And Co., London
[1914]




STONE HATCHETS AND KNIVES.
At the present day it is not common to meet with stone hatchets except amongst the tribes in far outlying parts, and these are so wild that white men very seldom come in contact with them. For very many years past, the natives, partly through intercourse with whites, and partly, along the seaboard, through intercourse with Malays and others, have been well acquainted with the use of iron. Amongst the Northern Central tribes, we have previously described in detail the nature and manufacture of their stone hatchets, picks and knives, and, in all important respects, what we wrote concerning these tribes is true of those with which I am now dealing. As I have pointed out before, the terms Eolithic, Palæolithic and Neolithic have no meaning whatever when used in connection with culture stages or periods in reference to Australia.

The one thing that stands out clearly, is that the nature of the stone weapon, or implement, used by an Australian aboriginal is determined, primarily, by the nature of the material available. If he lives where he can secure only quartzite, or some such rock, then he makes chipped and flaked implements. These may be as crude as the crudest so-called Palæolithic implements, or they may be as beautifully and delicately chipped as the finest arrow heads found in European prehistoric collections. If he lives where he can secure diorite and rocks of that nature, then he grinds his stone implements and, if he lives where he can obtain both quartzite and diorite, then he makes flaked, chipped and ground implements, just according to what material lies handiest. It is no uncommon thing, or was not until the Northern Central tribes came into contact with foreigners, to find one man carrying with him, at one and the same time, a ground and hafted stone axe, a flaked pick, a flaked stone knife, and a few small, crudely flaked, or perhaps flaked and chipped stones. He might even have also a beautifully chipped spear-head and, at the same time, you would find him using in camp a stone that he had just picked up and roughly flaked to serve some passing need. sonic indeed, of their stone implements are so crude that, if found fossil, they would only be recognised as being of human manufacture by those who have had personal experience of the Australian aboriginal, and have actually seen him at work, and even then in many cases it would be difficult to be absolutely sure.

It is not, I think, too much to say that we can now, amongst Australian stone implements, find parallels for all the various types that have been described elsewhere, and the interesting feature is that they all exist and either now are, or until very recently have been, in use side by side.

Tribes like the Larakia, Worgait, Warrai and others have practically no stone weapons left. They use iron or, perhaps, if they do not happen to have a white man's knife or hatchet with them, they may use a flaked stone which is thrown aside as soon as it has served its temporary purpose.

Amongst the less contaminated tribes of the interior, hatchets, knives and picks are still met with, though, yearly, in decreasing numbers. Amongst the coastal tribes two influences have been at work tending to lessen the importance of stone cutting implements. In the first place the natives have, for long years past, secured a certain supply of iron hatchets and knives from Malays and others visiting the northern coasts of Australia in search of trepang and tortoiseshell. In the second place they have found that shells, such as a large species of Cyrena, very common on Melville and Bathurst Islands. make admirable cutting and scraping tools. The I result is that stone implements of all kinds are now comparatively rare.

On Plate XII. four specimens of hafted stone axes are illustrated which are interesting because of their crudeness. Figs. 1, 2 and 3 are from the Kakadu tribe on the Alligator River. In the first specimen the stone is evidently a naturally wedge-shaped pebble of diorite. It measures six and three-quarter inches in length, three in greatest width and, in thickness, diminishes from one and a quarter inches to three-quarters of an inch just above the cutting edge. The latter has been worked on both sides. In the second and third the stone is also a diorite pebble. The second has evidently had chips knocked off the side which lies to the right in the figure, and both surfaces, close to the cutting edge, have been ground to a slight extent. The third has one surface left in its natural condition, the one seen in the figure has been roughly worked and there is just a slight, but only a very slight, indication of grinding close around the cutting edge. In each of these three specimens, the handle has the form of a bent withy, passing round close to the wider end of the stone, which, together with the withy, is enclosed in a mass of beeswax.

Fig. 4, which came from Melville Island, represents the crudest hafted axe that I have ever seen in Australia.[1] It is simply a roughly shaped block of ferruginous sandstone, measuring six and a half inches in length, four and a quarter in width, and two and a quarter in greatest thickness. It has been very roughly flaked so as to reduce it to its present shape and to form, also, what must have been a very unserviceable cutting edge, but there has been no attempt at grinding. It is the only example, that I have seen in Australia, of a hafted axe which has been flaked and not ground. The withy passes

[1. Unless the extraordinary, roughly shaped little blocks of granite, hafted in resin and formerly made by certain West Australian natives, can be called axes.]

almost round the centre of the stone, to which it is I attached by kapei, that is a hard, brittle resin, derived from the root of the ironwood tree (Leschenhaultia sp.), the two halves being tightly bound together by strips of bark.
&
During their thousands of years of living in the rainforests of North Queensland, the Ngadjonji have acquired an intimate knowledge of the plants and animals which shared their world.
Link Weapons and Tools

As Quoted from the page link above.
"Stone axes were highly-prized and very useful tools for the Ngadjonji.

They were used mostly for woodworking - to cut out and dress the wood needed for making shields, swords, spear points and boomerangs and for removing the sheets of bark used for making blankets. They were not usually used for fighting. The stone axe head was ground to an edge at each end with a groove ground around the middle for the strap which attached the head to the handle.
The handles were usually made from the robust lawyercanes jungganyu or nidu. A strap of the handle cane was wrapped around the central groove in the head and bound in place using strips of yapulam or barrga. (See Lawyercanes 404 Not Found

A brilliant site with a wealth of information and pics in regards to the Ngadjoni people and a plant index of traditional names to modern names with uses and preparations.
&
Australian Aborigines by J. Dawson 1881

TOOLS.

The natives have few tools ; the principal one is the stone axe, which resembles the stone celts found in Europe. This useful and indispensable implement is of various sizes. It is made chiefly of green stone, shaped like a wedge, and ground at one end to a shai-p edge. At the other end it is grasped in the bend of a doubled piece of split sapling, bound with kangaroo sinews, to form a handle, which is cemented to it with a composition of gum and shell lime. This cement is made by gathering fresh wattle gum, pulling it into small pieces, masticating it with the teeth, and then placing it between two sheets of green bark, which are put into a shallow hole in the ground, and covered up with hot ashes till the gum is dissolved. It is then taken out, and worked and pulled with the hands till it has become quite stringy, when it is mixed with lime made of burnt mussel shells,
pounded in a hollow stone — which is always kept for the purpose — and kneaded into a tough paste. This cement is indispensable to the natives in making their tools, spears, and water buckets. The stone axe is so valuable and scarce that it is generally the property of the chief of the tribe. He lends it, however, for a consideration, to the best climbers, who use it to cut steps in the bark of trees, to enable them to climb in search of bears, opossums, birds, and nests, and also to cut wood and to strip bark for their dwellings. For the latter purpose the butt end of the handle of the axe is made wedge-shaped, to push under the sheets of bark and prize them off the trees.
&
The Aboriginal "Axe Factory"

A term coined by W.J Enright of West Maitland. The term describes an area where hundreds of grooves have been found. Most often this is in the bed rock of creeks or rivers. It was first documented officially by Enright in 1936. The site which prompted this term was a discovery by Dr G.D Osborne of the Department of Geology. He discovered a large set of grinding grooves in the bed of Green Wattle Creek in the Lower Paterson Valley. In less than a space of 200 square yards 160 places were found where axes had been ground. On the north side of the Woodville-Paterson road, near the bridge over the Paterson River between Tocal and Paterson another smaller site was also discovered.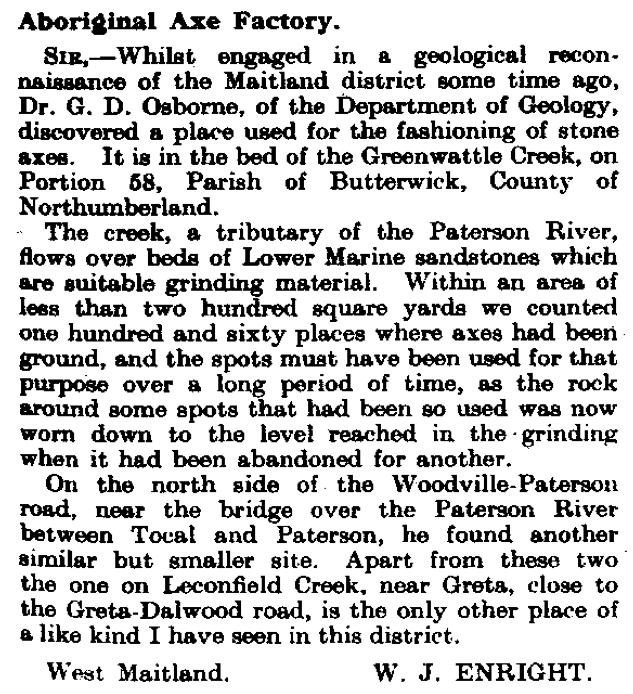 Notes on aboriginal stone axe discovered in West Maitland, N.S.W. / by W.J. Enright [1911]
p. 269-270 ; 25 cm. National Library of Australia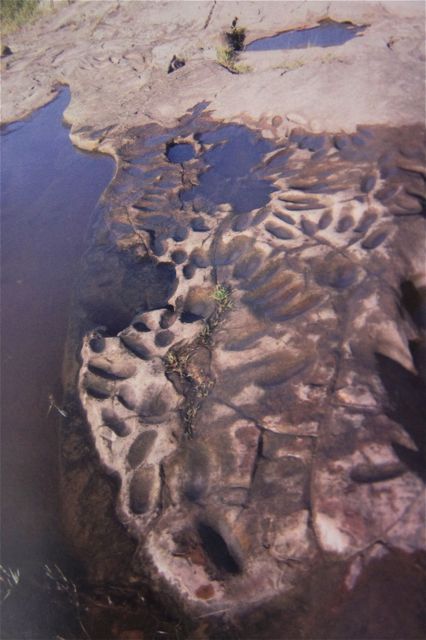 A section of the large axe factory at Green Wattle Creek
The vastness of the Green Wattle Creek site suggests that is was used for a long period of time and also that the people camped in the area for prolonged periods due to axe grinding being a time consuming process. It is likely to assume that people in this area used axes as a trade item as other groups were unlikely to have such a suitable sandstone for grinding.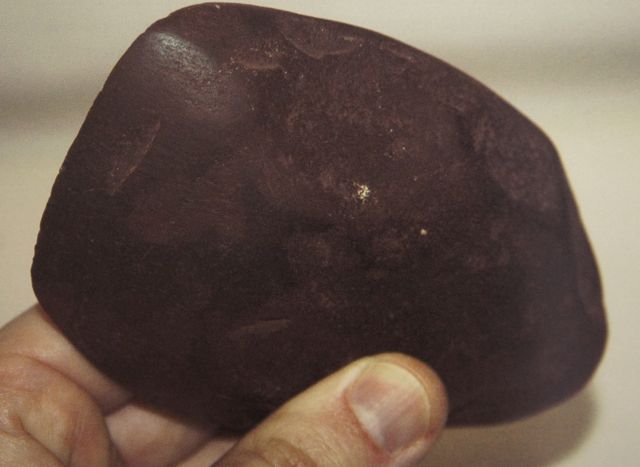 Shaped axe head artifacts. Note the tapering design which becomes rounded at the end. Also note the groove carved into rear of the axe showing where the handle would have been bound
The Small Axe or "mundabang"
The Wonnarua people used stone axes for many tasks these included but are not limited to making foot holds for climbing trees. butchering game, splitting logs to extract insects and peeling bark from trees to produce canoes or shields. The stone axe head was shaped in the axe grooves then a wooden handle is bound to the head with strong natural twine or animal sinew, most commonly kangaroo or wallaby. The head is fastened to the handle by using a resin such as treated resin from Xanthorea species.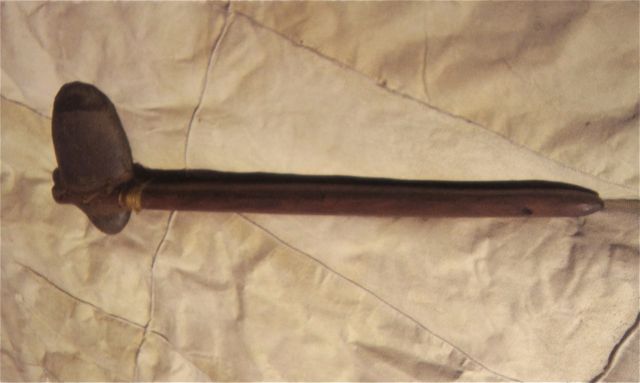 Stone axe replica. Made by Roy Barker
[/quote]
So there's probably a long way top go yet before I get to the bottom of this whole "best axe" bidness that I seem to have gotten delved way into now.
In for a penny in for a pound I guess.