Dunno if anyone else besides me keeps their eyes peeled for gemstones, while out 4wding off road / camping etc?
As a kid my old Grandfather used to collect semi precious gem stones & would take me with him out bush to collect various rocks from all over the state at various holidays etc.
Petrol was admittedly a lot cheaper back in those days!
Anyway, it might be something that sat the missus or kids might enjoy while out bush 4wding or camping - that they can easily do...without a lot of specialized / expensive gear!
There are various online resources for finding out "where to go" in your local area - in your 4wd that you might be able to find a few semi - precious gems perhaps even within a day or two's drive from home maybe for just a weekend get away with the missus and tin lids.
http://lapidaryworld.com/pdf/gemstoneswa.pdf
This is a handy one I use for WA for anyone interested!
Anyway a little while back I bought myself a couple plastic gold panning dishes with a view to finding a little gold in some of the southwest streams maybe.
On a visit out to the Collie Gorge (Below Wellington Dam wall in the Collie River) I managed to get a 20 liter bucket of river gravels to pan off... just to see if there's any gold in the river at all.
I found a deep round hole eroded into the solid granit in the river bed about the size of a 44 gallon drum. I figured any heavy gold that had fallen out of the water into the hole might have got stuck there...so it might be a natural type of "trap" for gold.
Unfortunately it was full of water!
Managed to convince my eldest lad to jump into the hole with a 20 liter bucket and bucket the water out - empty a few boulders out of the hole (and a couple small marron that we transferred into a deep pool of the river).
And he managed to get me about 10 or so liters of river gravels trapped in the bottom of this deep hole to pan off.
Well - I didn't find any gold at all!
Not to worry.... BUT this little stone caught my eye.
Not much of a stone...but it seemed to be slightly pink & hard... I started wondering if maybe it wasn't a rough diamond?
Collie is a known coal area & diamonds are sometimes associated with coal producing areas!.
I tried scratching glass with it and it did scratch glass meaning it must be hard....
Then I read up a bit and saw that if you look at rough diamonds thru a 20 power 'loupe" (jewelers eye glass) they should have these triangular type crystalline type structures on the surface!
So I bought a little 20 x Jewelers loupe and had a look - I THOUGHT I could see something similar on the surface!
Next was a trip to the jeweler to see if they could tell me if its a diamond or not!.
They used a little diamond test pen thing with LED's on it...but it doesn't light up all the LED's to the red one to be a diamond darn it!.
Jeweler said she THOUGHT maybe it was a small Topaz!
O.K., so not a diamond, but MIGHT be a Topaz... i can live with that!
Found a guy said he would facet it (cut & Polish it) for me...
Sent it off... hoping it might make into something 'nice for the lads wife... since he found it in her home towns local river swimming hole!.
A week later!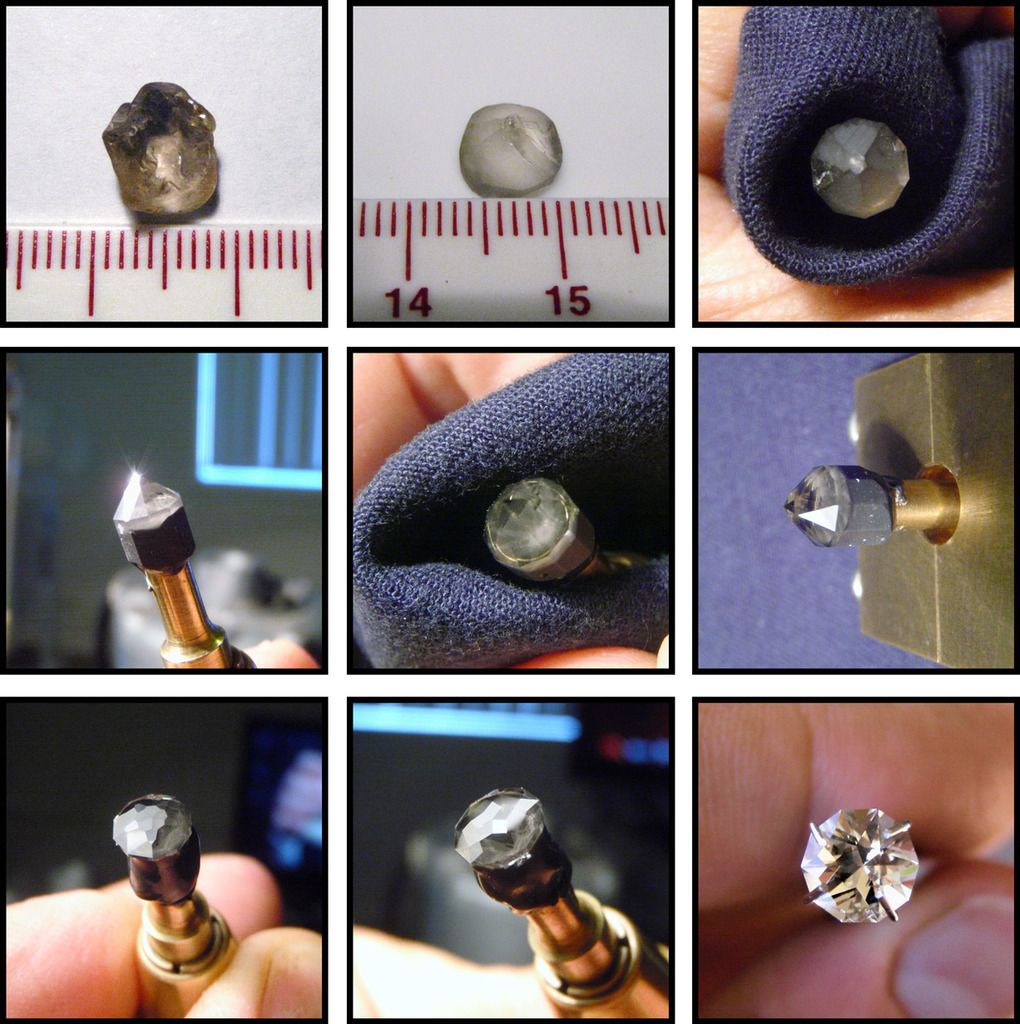 Turns out my Topaz was actually just clear quartz crystal - worth only about 5/8ths of what Paddy shot at, but hey at $20 to cut & Polish it - I am not complaining!
So...
The Lads wife - her Birth Stone is Emerald...
Off we go again...
Now I have a nice almost 1 carat 5.8mm cut quartz to set in a ring and two smaller 3.8mm dia emeralds as "accents" stones.
While I was getting them cut anyway... my daughters birth stone is Amethyst.... might as well get one of them cut too eh?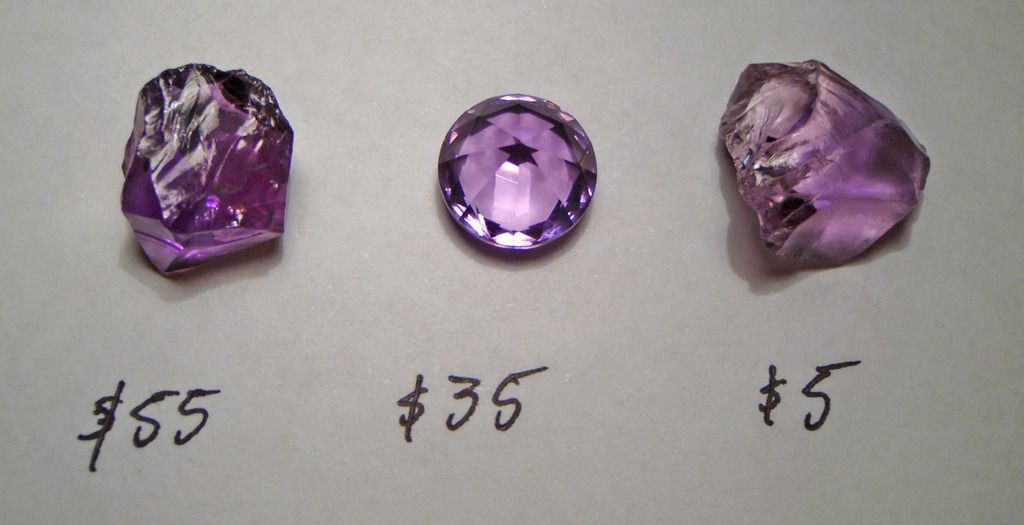 So next step... is off to the jeweler.... and get them "set" into something nice for the 2 gals...
Its NOT all that expensive to make up "jewelry" out of semiprecious stones - you'll actually spend more $ on the petrol diesel and food etc to go find the darn things than you will having them made into jewellery etc...
The Quartz was $20 to facet.. the emeralds supplied already faceted $55 for both. The Amethyst will run around $100 when cut.
If the setting cost is a worry you can always have them done in sterling silver if Gold is out of the budget...
It might just be something that helps get your womenfolk / daughters etc 'interested' in coming out bush with you... not everyone has sons who want to fish or hunt etc... so having a hobby / interest that the gals can get involved in - might be a way to get them a little more keen to tag along with the boys and spend some quality time in the bush...with the menfolk maybe...
Heck you might even accumulate some all important bonus brownie permission points towards that next "all boys fishing trip" away even!
YMMV (Your Mileage May Vary).