Guss

Admin
Posts: 2779
Joined: June 12th, 2007, 12:12 pm
Location: Traralgon, VIC
---
Guss

Admin
Posts: 2779
Joined: June 12th, 2007, 12:12 pm
Location: Traralgon, VIC
Hi all my Pajero is For Sale
24,000
ono
Hi all, my NM Exceed 3.2DID is on the market with full history, (including all invoices), it will be serviced & roadworthy.
Includes all extras except the following:
Fridge & slide, rooftop tent, phone kit.
So have a look at the mods list by clicking link in signature.
This vehicle is in A1 condition the leather is in mint condition motor & auto excellent you will note from my build thread most mods inc suspension have been updated over recent years..
TJM T3 B/bar, Raslarr Engineering Rear Custom Bar, Rear Work Light, TJM 9,500lb Winch & Syn rope (never used in anger!) Lovells H/D coils, Struts'n Shocks; Polyair Bags; Korr 90w LED Spots & 60W LED Light Bar; Dual Batt System - Main - SuperCharge Gold Plus low maintenance MF95D31R & Aux - Optima Blue with monitor, Snorkel, H/D T/bar, DP Chip, Bushskins Intercooler & U/Body Guards & Slider/steps, C/Barrier. T/Timer. TX3400 UHF, VMS 700HDS II GPS, Tomtom GO720, Reverse camera, Ironman Draw system, Engle 40Ltr on MSA Drop Down slide. Ironman Awning, Tradesman Oval Flat Roof Rack. Pioneer AVH-P3350BT Sound system, B/D 70Ltr sub Tank, Front Air Locker & T/Inflation kit, Redarc Remote Electric Brake Control, RDA Slotted Front Rotors, Dick Cepek "Fun Country 265/75R16s (less than 6000 km) on Ballistic 16"x 8" Alloys, 3" Custom Exhaust System, BRC Breathers added Diffs G/Box & T/Fer.
295,000 on the clock. (Country Klms)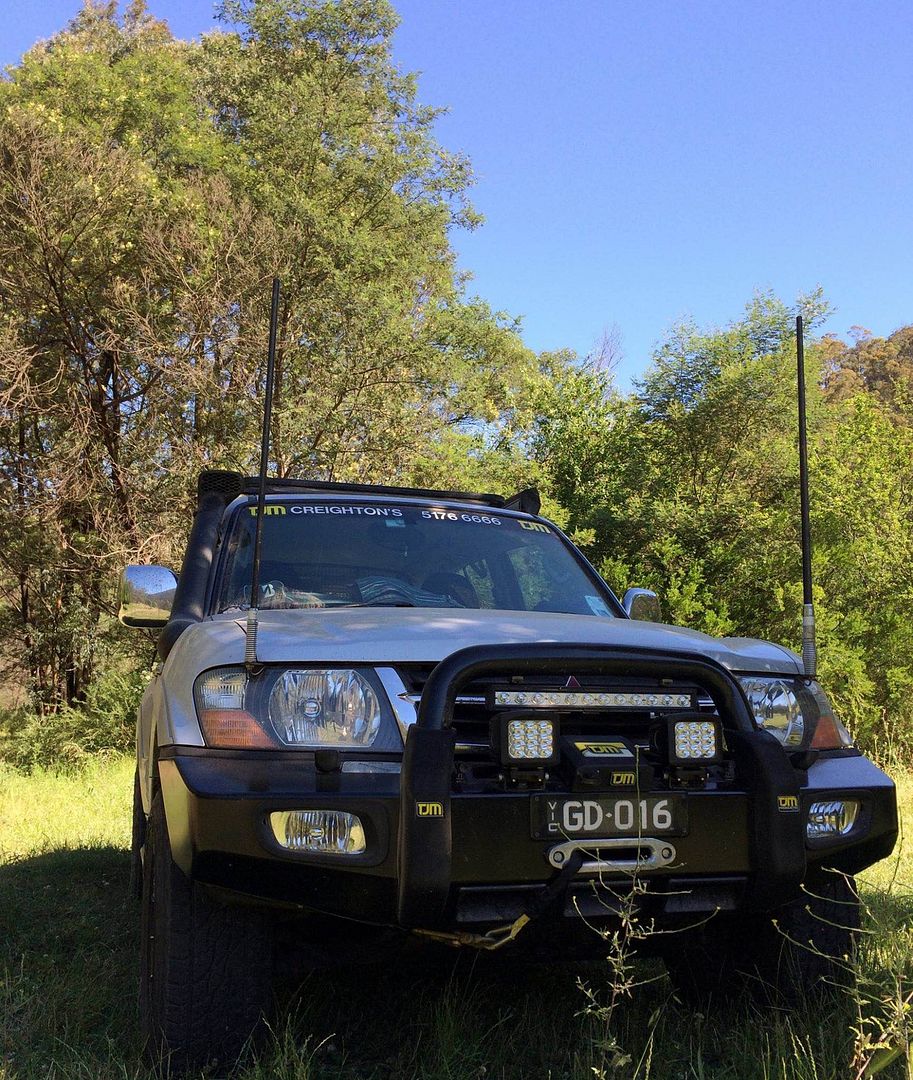 $24,000
ono
Guss
---
Guss

Admin
Posts: 2779
Joined: June 12th, 2007, 12:12 pm
Location: Traralgon, VIC
Guss wrote:Hi all my Pajero is For Sale

24,000

ono

Hi all, my NM Exceed 3.2DID is on the market with full history, (including all invoices), it will be serviced & roadworthy.

Includes all extras except the following:

Fridge & slide, rooftop tent, phone kit.

So have a look at the mods list by clicking link in signature.

This vehicle is in A1 condition the leather is in mint condition motor & auto excellent you will note from my build thread most mods inc suspension have been updated over recent years..

TJM T3 B/bar, Raslarr Engineering Rear Custom Bar, Rear Work Light, TJM 9,500lb Winch & Syn rope (never used in anger!) Lovells H/D coils, Struts'n Shocks; Polyair Bags; Korr 90w LED Spots & 60W LED Light Bar; Dual Batt System - Main - SuperCharge Gold Plus low maintenance MF95D31R & Aux - Optima Blue with monitor, Snorkel, H/D T/bar, DP Chip, Bushskins Intercooler & U/Body Guards & Slider/steps, C/Barrier. T/Timer. TX3400 UHF, VMS 700HDS II GPS, Tomtom GO720, Reverse camera, Ironman Draw system, Engle 40Ltr on MSA Drop Down slide. Ironman Awning, Tradesman Oval Flat Roof Rack. Pioneer AVH-P3350BT Sound system, B/D 70Ltr sub Tank, Front Air Locker & T/Inflation kit, Redarc Remote Electric Brake Control, RDA Slotted Front Rotors, Dick Cepek "Fun Country 265/75R16s (less than 6000 km) on Ballistic 16"x 8" Alloys, 3" Custom Exhaust System, BRC Breathers added Diffs G/Box & T/Fer.

295,000 on the clock. (Country Klms)

$24,000

ono

Guss
Price Dropped as have ordered new vehicle $24,000. ono
---
Guss

Admin
Posts: 2779
Joined: June 12th, 2007, 12:12 pm
Location: Traralgon, VIC
---