With not being able to get away over the long weekend before the tracks close a mate and myself decided to finish a trip that we didn't get to finish due to an engine bay fire on the labour day weekend.
After work on Friday I drove to Stockmans reward and made camp, waited for a couple of mates to turn up and called it a night. It was a late start on the Saturday morning not breaking camp till 10:30. Went up the big river road to hope track, continued along until the Mt Terrible track and made our way up to the fire tower. Continued along to Polletis track and made our way into Skipworth for lunch. It was all fairly easy at this point with taking the many offshoots on the Mt Terrible track.
Made our way along the woods point road through Jamieson and turned right onto Stoney creek track. Made our way up the hill, it was greasy but fairly easy going on all terrains. Made our way along and passed the spot where we had the engine bay fire and continued along onto Mitchell's track. A few parts looked worse than what they actually were between Stoney creek and Symes track, I picked up two front wheels going up one of the rock ledges and I wish I had a photographer with me. We continued along Mitchells track when we got to the bit that would really test my nerve. I got into it when I really should have backed off going up a rock ledge and the back end had bounced around leaving me at 45 degrees back wheels in the soft edges and the front wheels just under the ledge. I couldn't reverse down from where I was. I called out over the UHF and got Colin and Joel to bring up some recovery gear. Using my winch that was fitted Friday morning pulled myself to safety. Must be a common place to come unstuck as the tree that we used to winch off had no bark around the base (we did use a tree trunk protector).
We had caused a traffic jam by this stage as another group were waiting for us. Colin came up and after a couple of go's he got up without assistance. We waited for the group behind us to get the first 2 cars up and they struggled but eventually got up. We continued along to Steiners road and then onto Howqua hills track. Both in very good condition, Howqua hills track looked like it had recently been graded. Headed into Frys flat to camp for the night as it was 4:00.
It rained overnight, but we were all dry. Headed to sheepyards and along to Bluff link road, continued along to Bindaree road and then onto the circuit road. Headed up Monument track which was a really good track onto clear hills track into Craig's hut. We were rewarded with lots of fog, it was 3 degrees outside!!!
Took some photos of the hut and continued along the circuit road back to Mansfield. Then the long drive home!!
All in all a good weekend, was very quiet on the tracks with most people I'm guessing opting to go away this coming weekend instead!!
The only damage was a broken bolt on Colin's spare wheel carrier which allowed the tyre to move in and out but we spotted it early and replaced the bolt, on my Prado the inner wheel liner had come away causing it to rub on the wheel coming through Jamieson, easily sorted with cable ties.
Was too busy driving to take photos of the tracks but have a couple of Frys hut and Craig's hut
Friday night camp:
Frys hut: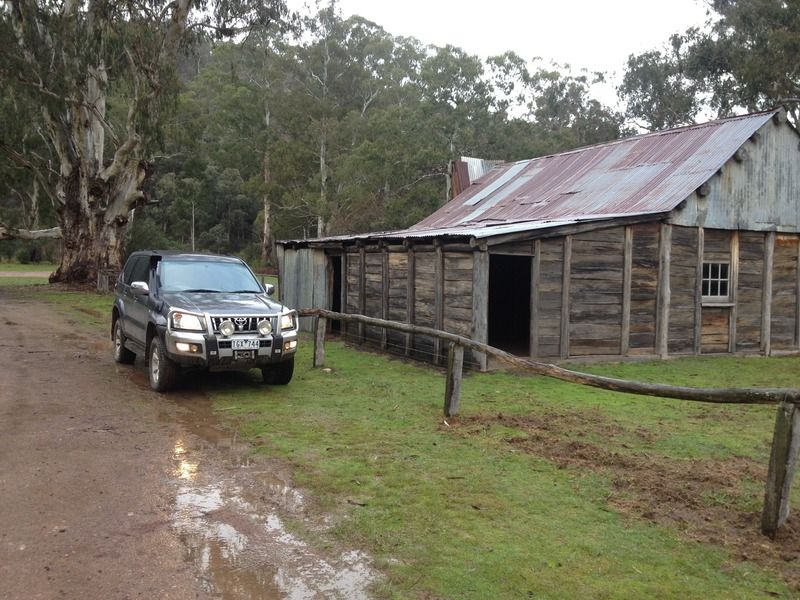 Craig's hut: