Hi everyone, I thought I'd share a trip we did last Easter through The Blue Mountains National park from Jenolan Caves to Wombeyan Caves. This was the first multi day trek we did as a group and was very much a experience builder in view of a Fraser Island trip coming up later in the year.
The vehicles in the group were a Jackaroo with a lift, a Prado and a bog stock D40 Navara.
the trip started with brekky at Katoomba and it was off to Jenolan Caves. The road off the highway to Jenolan is pretty good and the narrow section down into the caves is controlled by limiting the direction it can be used by the time of day. This keeps all vehicles heading in the same direction to eliminate any passing on what is an extremely narrow road for most of the way.
Once at Jenolan Caves we parked and had a bit of a look around and explored the areas that didn't require a guide. While we were there we were fortunate to see a platypus swimming in the larger pool, he hung about for about 30 minutes and was one of those rare priviledges.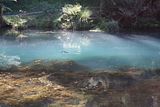 Look real hard and you'll see him, unfortunately we had no zoom lens.
The view of Jenolan Caves from the top carpark, don't try this walk unless you're in good shape otherwise I'd suggest the courtesy bus.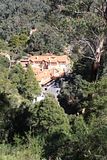 From Jenolan caves we headed to our first overnight campsite at Kanangra Boyd at the Boyd River site. The road turns to dirt not far beyond Jenolan Caves and was in pretty good condition however don't forget it's a busy section of road and should be driven at a safe pace. This site doesn't have a great many spots where you can park close to your tent but it does have a pit toilet and running water nearby. Although freezing cold on the night it was a very peaceful spot and quite pretty. Firewood was plentiful and there are fireplaces provided with hotplate but be sure to take an extra blanket and warm clothes because even Autumn and Spring can be freezing overnight.
Leaving Boyd River campsite
From here to Kanangra Walls the dirt road is excellent but busy on weekends and especially holiday periods with quite a few 2wd vehicles. Once at the end of Kanangra Rd you can Park and take a walk to see the walls and if you're feeling fit you can walk down to the waterfall. I highly recommend this as it is beautiful and on a hot day would be great to cool down. On the day the mist was too thick to view the walls but I can assure you from a previous trip it's quite a remarkable sight. Beside the road here there are picnic tables so you can take a break or grab a bite to eat after the walk to the waterfall.
Entry and picnic area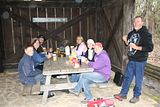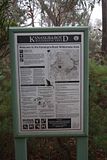 The walk in and the waterfall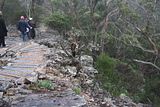 From Kanangra Walls we back tracked along Kanangra Rd to the Kowmung River Fire Trail which is well sign posted and this is where the 4wd'ing starts to become more fun. There is a fair amount of track through here where you should use low range and the crossing itself at Kowmung River is excellent. Be sure to take some time to have a look around while you let the diffs and axles cool down. This is a pretty place and if it's later in the day, not a bad spot for a wash. Just after the river crossing there is a bit of a steep climb and ruts getting up the first real hill towards Dingo Dell still travelling on the Kowmung River Fire Trail but even the novices will make it with a bit of caution and forethought.
Kowmung River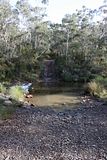 In no time you'll be at a great place to camp, Dingo Dell. Pit toilets, freshwater stream nearby and a selection of tracks up a climb to suit every level of driver and vehicle. I recommend this spot to everyone even if you only manage a day trip.
My favourite part of the trip was the drive from Dingo Dell to Yerranderie, this section passes through some magnificent forrests and some of the views are spectacular. There are some creek crossings and some steep tracks to keep you awake and eventually you will pop out in the pine forest.
After quite a few hours we eventually rolled in to one of the nicest places to visit in the Southern Highlands/Blue Mountains.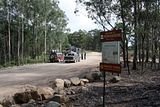 Yerranderie is an old mining town that has a huge history too long to go into here but I highly recommend having a read. The day we arrived was special and sad in that the woman who owned the town and had been restoring it for decades was handing it over to National Parks and Wildlife which most believed was to be the death of it being a place the public could enter. Most there feel NPWS will put running it into the "too hard" basket and close it which is a great shame but that didn't put us off setting up camp and exploring it for a couple of days. The number of old mine shafts and relics is enormous and the Silver Peak Mine is worth a couple of hours on its own. There are great bushwalking tracks and we were fortunate enough to be led around by a very experienced bushwalker who showed us some of the rare flora, in particular an orchid which is endangered.
Silver Peak Mine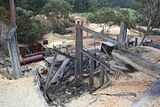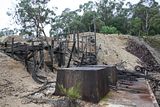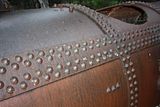 Some of the other things to see in Yerranderie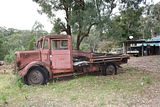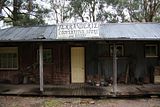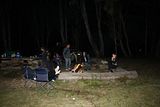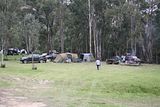 And don't forget to visit the cemetary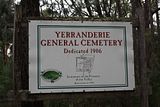 If you have some friends you'd like to introduce to 4wd'ing then I reckon this is the trip to do. Avoid it in late Autumn & winter as it gets very cold and will even snow at times. To give this one justice, a minimum of 4 days will give you opportunity to take your time and explore some of the side tracks and get the most 4wd value. The route is extremely well documented in all the usual offroad guides and doesn't require any specialised mods or equipment if you're sensible.
I hope you enjoy it as much as I did.
Steve