The Motley Crew 4wd Club, of which i'm a member, had the Simpson Desert as it's big trip away this year. i was taking my family along for the ride aswell as Mr Mac taking his family, and then another 4 vehicles comprising of just husbands and wives and one final vehicle comprising of 2 mates who were lucky enough to leave their partners behind for 3 weeks
so all up it was 7 vehicles making our 3 week trip away from Brizvegas out West then back home again.
Day 1 :- 7.30 a.m was the meet up time at The Calamvale Hotel carpark for everyone, we arrived on time but didn't have quite the same action packed trip there as one of our other crew did. rule #1 make sure your roof pod is securely locked shut
Rick (aka Boxxy) and Bronny found this out the hard way and lost their sleeping tent aswell as their shower / toilet tent off of the roof whilst travelling at 100 kph down the freeway on the way to the carpark meet up
ops: the tent was found but some poles were missing, and after much frantic searching along the side of the freeway they had to give up looking. after everyone had met at the pub it was time to head off to Toowoomba where Rick and Bronny had a date with a camping store to buy a new tent. tuning the car radio to Toowoomba's local station as we entered town i heard them say it was a chilly 5 degrees in town, which on exiting my vehicle at the camping store carpark i agreed with fully, abit nippy for a born and bred Brisbane boy...lol...oh well it was just a taste of the cold temps to be expected out west along the way.
Leaving Toowoomba we headed off to Oakey for our morning tea point which was the Aviation Museum at the Oakey Army Base. whilst it doesn't look all that big from the outside, it was quite surprising how many planes and helicopters they had on display in there, well worth a look.
From here it was on to Moonie via Dalby for a quick lunch stop, before making our way to St. George for our 1st nights stop over. our camp site would be down on the banks of the river, a great free camp spot about 300 - 400 mtrs downstream from the weir wall. be sure to get atleast this far away from the weir wall, as the clanginging of vehicles crossing over it gets quite loud at night, even when your as far down stream as we were. i pity the guy camped just below it in his caravan, it would have been a noisey nights sleep for him for sure.
YOU LOST WHAT?.....lol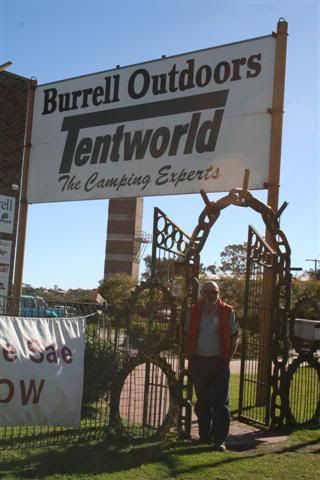 ONE OF MANY PLANES ON DISPLAY AT OAKEY
Day 2:- we were up early and greeted with a spectacular sunrise over the weir wall
we packed up camp and headed into town to wait for those who forgot to fuel up the arvo previous. it was here we saw something we don't get to see back home, a roo shooter returning from his night out hunting.
SPEAK TO ME SKIP!!
from St George we headed off towards Thargomindah where our next nights stop over would be, along the way stopping at Cunnamulla for lunch.A lovely female police officer just out of town made half our crew stop and do random breath tests and license checks. this would be twice in 2 days for Glen having to do a RBT as he was also checked the previous night in St. George...lol..i seriously can't remember when i last had to do a RBT back home in Brisbane it had been so long.
MY KIDS WITH THE CUNNAMULLA FELLA
SAW HEAPS OF THESE IN 3 WEEKS OUT WEST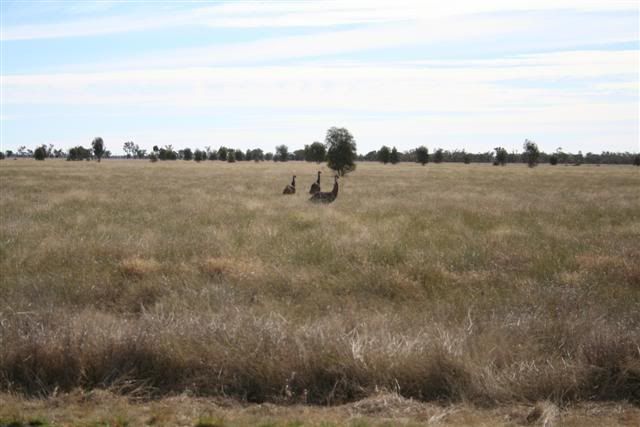 JUST EAST OF THARGOMINDAH (i'm sure plenty of you have seen it without water)