Ok well after way too long I've moved some stuff around to make some room and made a start at building a new tray for my 75 series . I took the old tray off about 18 months ago and stuck a spare light one on with just a bit of form ply in it to keep the old girl on the road ,lol
Then a couple of weeks ago I got another ear bashing from her in doors that I need too get onto that tray rusting away under the trees in the yard .So I flipped it over and got busy...
The main rails are in good nic with only a bit of rust pitting on the top at the front .. I braced them before cutting them out of the old tray .
Then started to think about a new design and how it might all work ..
Living up here in the north with a ute its hard too keep the shopping dry in the wet season if we both go ,so wanted to build tool boxes , and we have been thinking of maybe a camper trailer or roof top tent , but then the quad bike needs to go up there as well , so 50/ 50 seems like the way to go .. I can put a rear ladder rack on after the bike rides up . A roof top tent could hinge from the front to allow the rack in or out to ride the bike up ... well it sounds good in my head ,lol ...
So it began ...
Cardboard down on the outside table ..I always save a few big bits from boxes to lay on on the gravel or put down like this.
Then bring in a sheet to work on ..and move the dog ..
Slowly taking shape..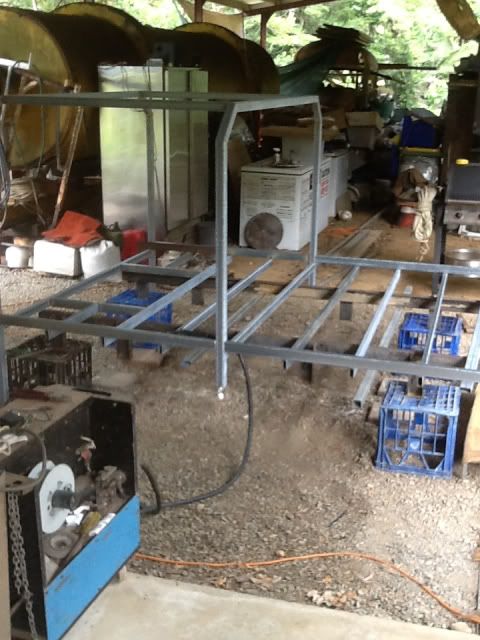 So its a long way from going to town but its coming along , I've been getting tail light and bits for ages and i've had the steel in the rack for at least 8 months .. I've trolled around these threads and others looking at everybody's ideas and in the end just had to make a start ..
cheers Ned