Howdy All,
I guess you people's all think that all i do is spend lot's of $ and time on my race rig...........well you would be kinda right.
When im not workin on the rig im busy doin something else 4wd related, that happened to be this time organising a trip to Loveday 4X4 Adventures, with the 'Northern' Chapter of the club and Sprat's organising the 'South' chapter of the club.
Sprat's & family, Darren & soon to be family, met me at the usual meeting place at 10:30 on Friday mornin, so we could get up there and get set-up and have a relax next to the fire, and get ready for all of those arriving on the Friday night, and Saturday morning!
It turned out to be quite a showing! we had close 20 vehicles turn up, some that were in the club and others who wanted to come for a burn and see what we are all about.
We started out on Saturday morning in the '4X4 World' that Tony has created.
I thought straight up i would put those keen into the 'Mud Bath' to see if we would have anyone drop out due to engine's stopping............only had 1...a 80s...but we quickly retreved him and dryed him out nad away it went again...so no retirements yet!
Next up was 'Rocky Hollow' the first bit is pretty easy going, just lots of articulation which my GU dont like doin as i still have the sway bar's connected.
Then the first challenge!...'Step Crusher'...named for a obvious reason, it like's eating side steps!...so i warned all the boy's and girl's and told them it was a possibility of damage. Did ya think that scared them all off?....no way! in true ET style they attacked it....no damage was recorded.. but definately a bit of air!...for some!
Here's a pic of me bro-in-laws GU.....he put some Cheezy steps on the side cause he destroyed one of the stock one's last time we were up there, so he thought he would test them out!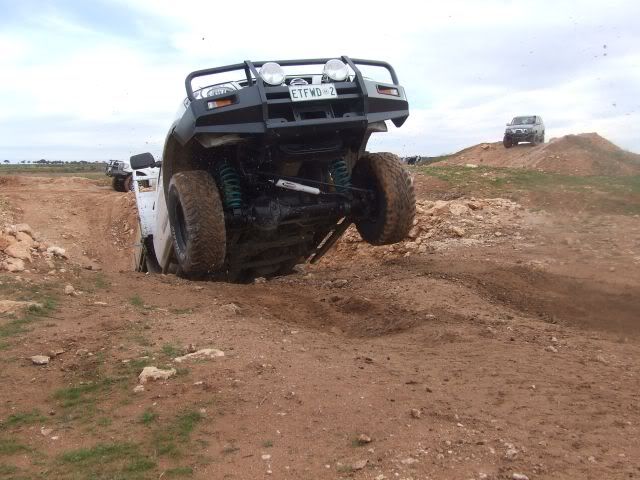 And here is DieselDylan from here........he gave it his best shot to get some air but the old 2H did'nt quite have enough pony's.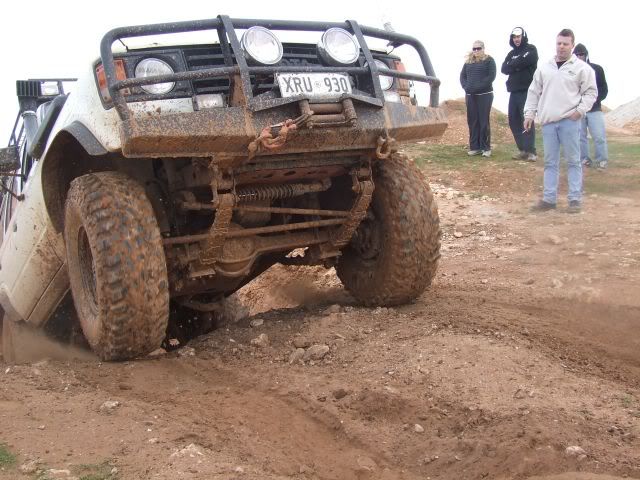 After this challenge it was onto 'Bunyip's Cave' it was pretty sloppy in the bottom so it made it that little more exciting, everyone who had a go made it...and yes still no damage!
Here is a pic of 'STOMPA' the bloke drivin this little Bundy on roids is the bloke who is gunna paint me race truck for me....Man did i caked with mud takin this shot!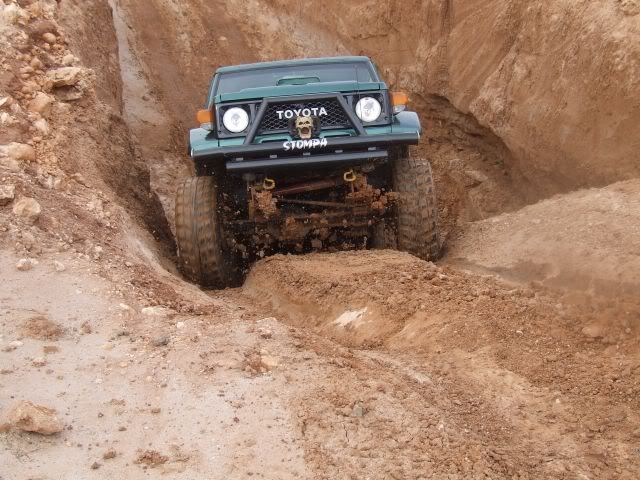 After this it was onto the 'Rock Garden'.
Only 2 bloke's had a go at this...and both of them finished it all with the exception of the exit.
Here is a pic of Sprat's 80s in the garden.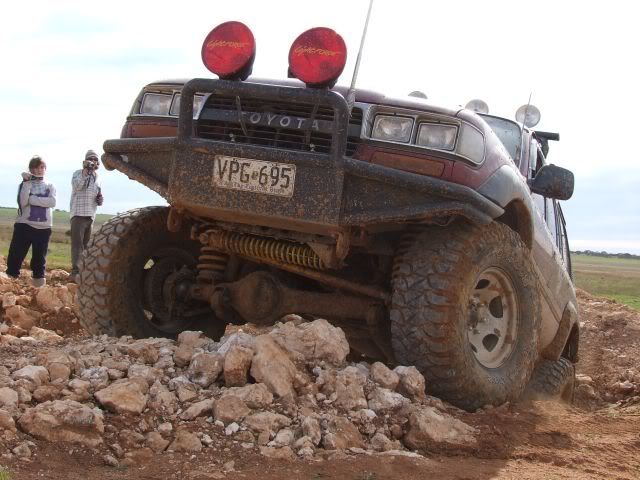 It was not long after this that Sprat's got a rush of blood, after flying through the 'Roller Coaster' he had a crack at the 'Car Crush'.
He did 3 of the 4 pile's of 3 cars and then tried to attack the 4th.
The 4th had 1 crushed car and the other 2 were still intact. So sprat's had a go at crushing them with the 80 to help Tony out a bit.
He got the first one and was well on the way to killing the 3rd when the 80 ramped up in the wrong spot and bent a lower control arm.
We called it a mornin after that and headed for camp to have lunch at which time me and sprat's and a heap of other guys set about trying to remove the arc from the rear arm.
After a few failed attempts we managed to find a rig that had a winch that worked in our crew and used a fork of a tree some jack handle's and breaker bars and managed to kinda straighten the arm.
We wacked it back in and it was time to hit the mallee scrub up!
We did all the tracks we could find, and then we came to the 'Teaser'.
Most of the rig's had a go and a fair chunk of them struggled, it was a bit tougher than it looked!.....cant wait till it all drys up!
Here's a pic of one of the boys havin a go, the hole's are a bit big!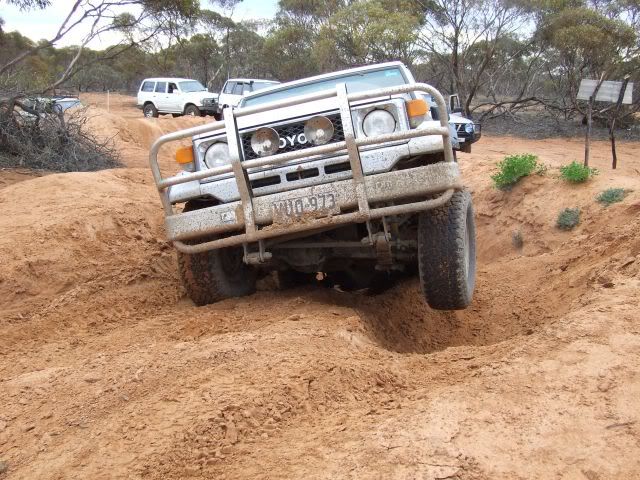 We then headed for the sandhills, by this time it was dark, and was good fun watching a few rigs get real ordinary tryin to back up for another go at the dune's...One rig ended up with about 8 of us hangin off the r/h side of it to stop it goin over!
I have a few more pic's of the same type if ya keen, hopefully a few of the others that went will find this and post their vid's an pic's up.
Next trip is to Robe, gunna give the dune's a ET'ing...been a while since we have been down there so it's time for a re-run i reckon.
Hope ya liked,
Steve.